xkcd - A webcomic of romance, sarcasm, math, and language - By Randall Munroe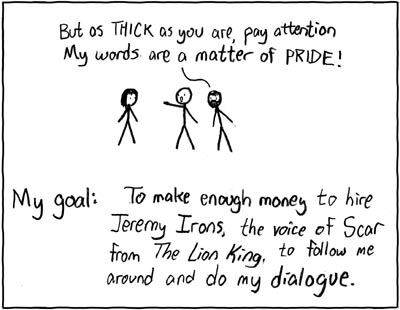 I have always loved Jeremy Irons. His voice is fantastic. In fact, for a while I fooled myself into thinking I wanted to see Eragon, just because the first trailer I saw was narrated by him. But really it looks like a terrible movie.
as Jeph Jacques said: "
Wasn't Jeremy Irons also in the Dungeons & Dragons movie? What's the deal, Jeremy Irons?
He won his Oscar, now he's just fuckin' around. It's like winning the World Series and then joining the Cubs!
OH BURN ON YOU, CUBS FANS
"